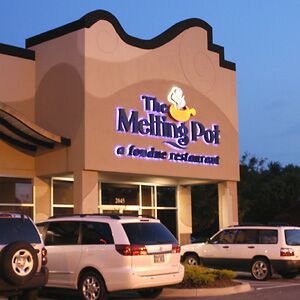 Oh my gosh....went to the most fabulous restaurant last night!!! My husband took me to The Melting Pot for my birthday. For those of you who have never heard of it before, it is a Fondu restaurant. Everything, and I mean everything, is fondu style. We went to the one located in Irvine.
I had heard several amazing things about the restaurant, but had never actually been there. I can now officially say that everything I had heard about it was true.
Alex and I had such a blast from start to finish! We started with a Spinach and Artichoke Cheese Fondu appetizer. This came with mixed breads, apples and veggies to dip in it. Then we had yummy salads. Next, we had the entree. Our entree included 5 different types of meat and a yummy cooking broth. We had filet, lobster, pork, chicken, and there was an option of bass, but we asked for more filet instead. Mmmmmm!!! This also came with delicious veggies to cook and then as if that wasn't enough we were also given spinach and gorganzola filled ravioli to cook as well.
After all of that delicious food, yes...there's more, we had the most amazing desert. We had a snickers fondu....this came with strawberries, pineapples, bananas, cheesecake, brownies, marshmallows, and pound cake. We ate it all....you have to!! It's so incredible.
I already want to go back, but there are no special occasions coming up...may have to just go for that yummy spinach and artichoke dip.
Well, you can't just take my word for it...you have to go try this yummy restaurant!!! Mind you, it is a little pricey, thus my comment about special occasions...but well worth it!!!!